SMC/ GRP Sectional Water Storage Tank
SMC/ GRP Sectional Water Storage Tank Description
SMC module water tank is a new type water tank after the development of reinforced concrete water tank , steel plate water tank, stainless steel water tank.SMC water tank combined with the SMC molding panel, sealing materials, metal structure and piping system to onsite assemble together.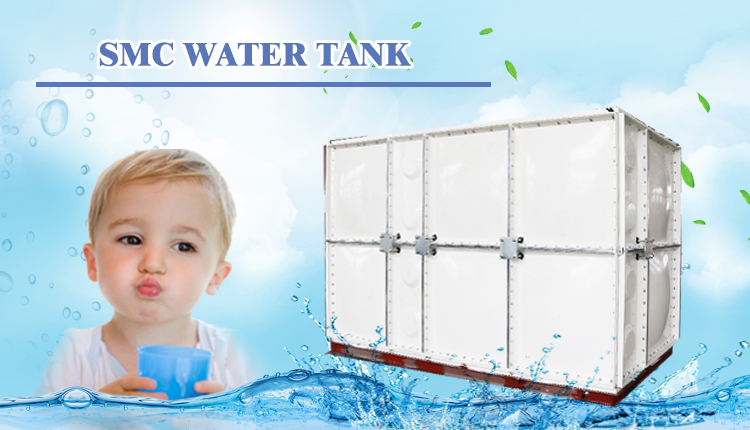 SMC/ GRP Sectional Water Storage Tank Features and Structure
1.Strong resistance to corrosion.

2.Reasonable structure design.

3.All welded on-site combination. High strength, good sealing, prevent secondary pollution of water quality.

4.Light weight, that is one half of ordinary steel plate water tank.

5.Easy to install.

6.Clean, bright, beautiful appearance.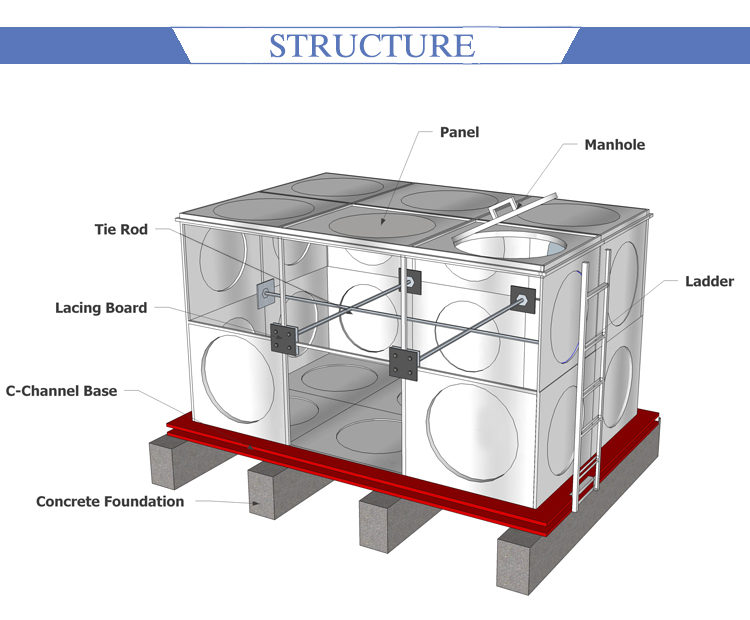 SMC/ GRP Sectional Water Storage Tank

Panel Size
Water tank size: Can be made as your reuqest.

Panel size: 1mx1m, 0.5mx0.5m, 1mx0.5m

Wall board thickness: 5mm,8mm,10mm,12mm,14mm,16mm etc.
SMC/ GRP Sectional Water Storage Tank
Accessories
1.Support for Panels: The panels shall be supported externally or internally by an adequate support system. External Reinforcement - Hot Dipped Galvanized Steel Internal Reinforcement - Hot Dipped Galvanized or Stainless Steel 304 rod support and tie-rod

2.Sealing Materials: Non toxic Rubber foam to be used for all jointing, it is especially developed with long experience
and technology on SMC products. It maintains soft itself and adhesives even at low temperatures

3.Bolts, nuts and washers for the assembly of panels: Exposed externally are hot dipped galvanized steel and in
contact with water internally are hot dipped galvanized steel or stainless steel 304

4.Flange: the flanges for inlet, outlet, drainage, overflow are hot dipped galvanized steel or stainless steel 304

5.Ladders: SMC sectional tank of 1.5m depth or more shall be provided with internal ladder made up of materials same
with the supports. The external ladders shall be galvanized mild steel or equivalent

6.Drainage: The dome shaped bottom panel with a concave drain panel facilitates complete and fast drainage. The
concave drain panel has been designed to ensure the periodic cleaning and inspection of tank

7.Overflow Screens: it can be supplied with a screen overflow having a micro mesh filter

8.Man-hole opening & Inspection Hatches: the size can be customized; normally it is supplied with a standard size of:
600 x 600mm. the opening can be designs of bolt, seal-tight locking arrangement

9.ABS roof vent with PE insect screen

10.Float level indicator, optional SS304 for internal and external support structure are available on request.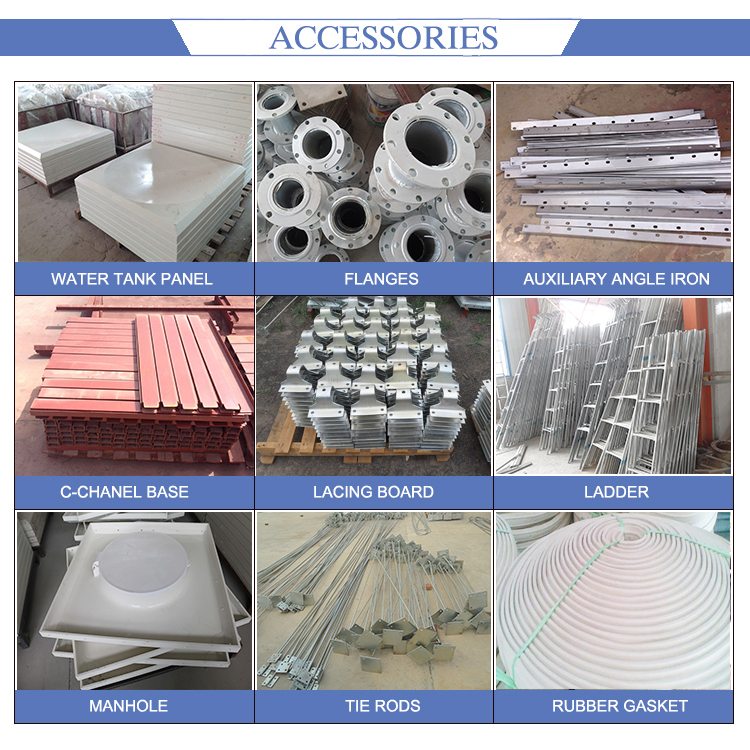 SMC/ GRP Sectional Water Storage Tank

Packing and Delivery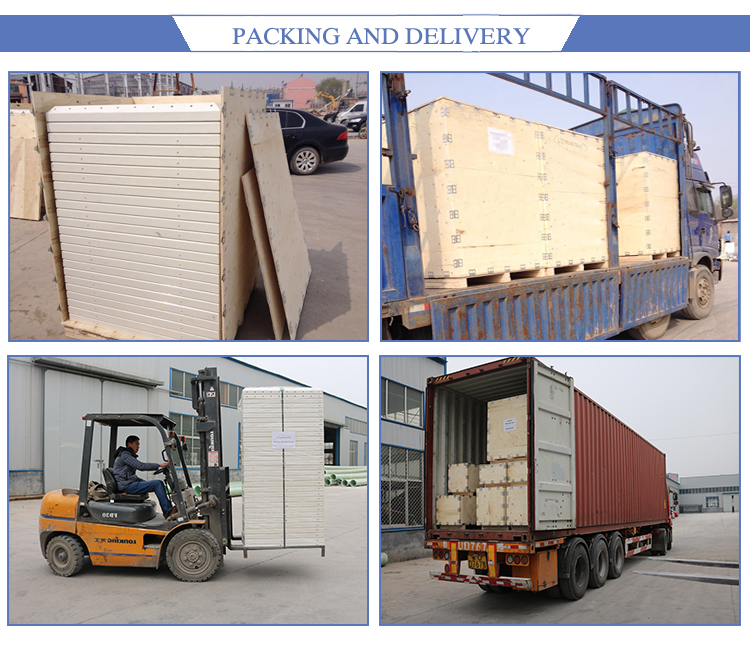 Related Products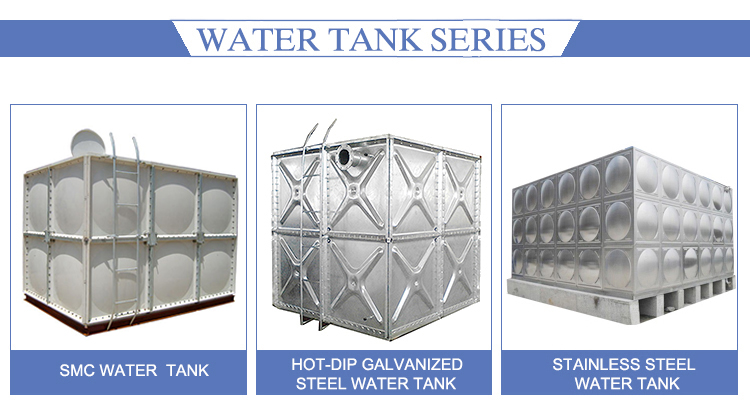 Contact

Related Products:
Cooling Tower Parts:cooling tower fill,cooling tower spray nozzle,cooling tower air inlet louver,cooling tower drift eliminator.
Water Treatment:tube settler,water tank,bio ball filter media,fine bubble diffuser.