Stainless Steel 304 Food Grade Water Tank
Stainless steel water tank consists of the import food level SUS stainless steel plate .Compared with other water tank ,the stainlness steel water tank interdicts the sunlight thoroughly , maintains the water quality and no algae growing and water quality no secondary pollution.Factory use unique stainless steel plate and the high difficulty ramming formation craft to achieve the high strength requirements with the smallest material consumption.The weight only be one third of the ordinary panel.
Insulate panel fully in line through the overall locking and covering the surface. We can meet your requirement to model different size of the panel, the volume can meet all design requirements. And if the installation site has no special request we can provide insulation services.
Stainless steel water tank Specifications:
1)Water tank capacity can be changed from 0.125m³ to 1000m³
2) Lightness and High Strength
3)Heat preservation and sanitation
| | |
| --- | --- |
| Process technique | Stamping forming process |
| Accessory | Stainless steel |
| Panel grade | Food grade |
| standard | National standard or factory standard |
| Bottom base | Channel steel |
| Foundation | Concrete base |
| Panel size | 1*1m,1*0.5m,0.5*0.5m |
| Panel thickness | 1mm to 3mm |
| Volume | 0.125~1000CBM |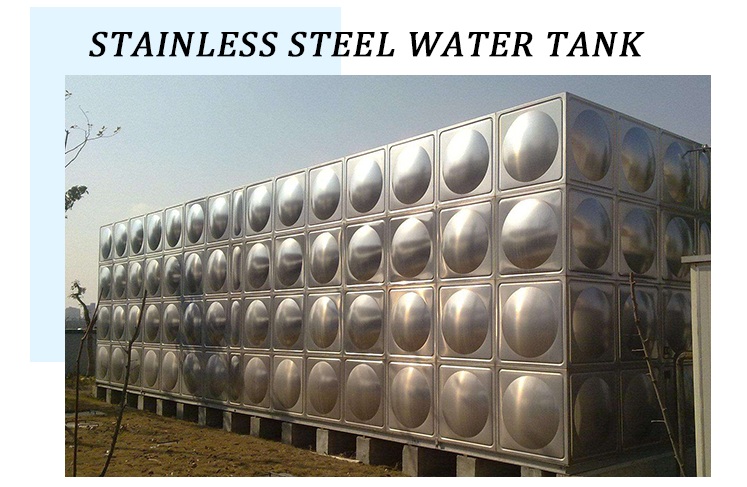 Stainless Steel Water Tank
Advantages and strengths:
1. Never Rusted
Imported food-grade SS304,SS316L stainless steel,unique anti-rusting performance.
2. Never Leaked
Unique structure and all-welding operation, excellent strength.
3. Free Combination
Pattern and capacity can be customized according to actual usage environment, no demanding requirement, especially suitable for upgrading project.
4. Reasonable Structure
Unique board design and press processing, reasonable inside supporting bars and high-strength stainless steel material makes the water tanks have an excellent strength and streamlined outlook.
5. Light & Cost-efficient
Adopting 1.5-3.0mm stainless steel boards, significantly reduce the weight of the water tanks, make it more cost-efficient.
Stainless Steel Water Tank Accessories:
(1) Stainless steel panels ( Bottom panel, wall panel, roof panel and manhole);
(2) Internal parts ( Internal ladder, tiepiece, support, tiepiece board, flanges);
(3) External parts ( External ladder, angle iron, tie piece board, bolts and nuts, water level indicator);

The material of internal and external parts as follows:
•Stainless steel 304 /316;
•Hot dip galvanized steel (HDG);
•Cold dipped galvanized steel (CDG);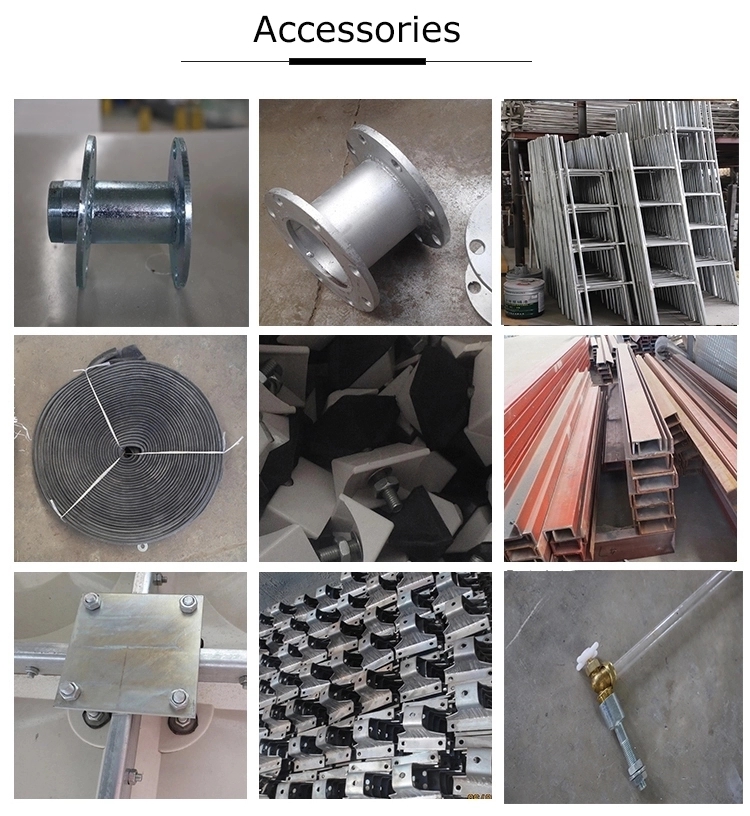 Related Products:
Cooling Tower Parts:cooling tower fill,cooling tower spray nozzle,cooling tower air inlet louver,cooling tower drift eliminator.
Water Treatment:tube settler,water tank,bio ball filter media,fine bubble diffuser.